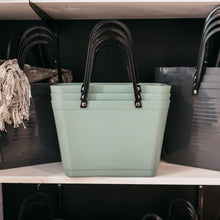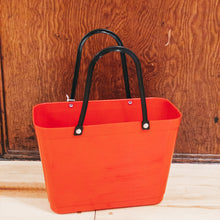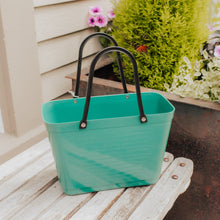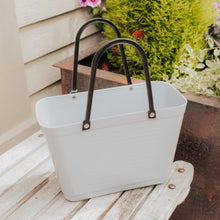 Hinza Small Tote, several colors
A Hinza bag is not a bag like any other. The classical stylish shape makes it fit in anywhere, and the plastic material allows it to withstand almost anything it is exposed to.  The Hinza bag is a  colorful and stylish alternative for organization at the home and the office.      
The large version of the Hinza bag is a Swedish classic, designed at the beginning of the 1950s by Swedish plastic and chemical company Perstorp AB. The striped plastic bag quickly became popular in Swedish homes as it was useful for a multitude of purposes, not least for carrying home groceries.      
All Hinza bags are produced in Hillerstorp, Sweden  in a production plant certified to the quality and environment ISO-standards 9001 and 14001.
The Fifties concept and design still hold, with the bag's stylish shape and enormous usability meaning that it's never outdated.
Features
With Handles - Height: 15"
Without Handles - Height: 8.5"
12" L x 6" W
2 gal. volume capacity
22 lb. carrying capacity
Made of polyethylene plastic